I came back to a weapons station (Bushido merchant, IIRC) from a rather annoying combat with a flock of Molotoks (I'd blown up the BM station in the system) to find this at the Ferian Colony next to it: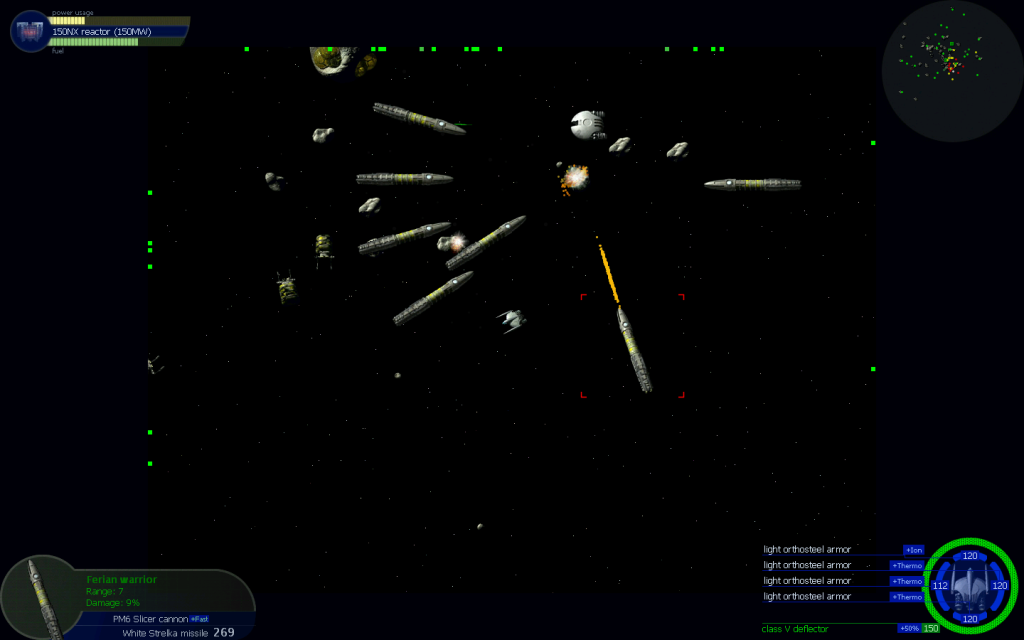 Basically: SEVEN Ferian Warriors, staying dead still, blasting the bejesus out of a small asteroid. And a rather stupid centurion trying to get itself killed by flying though the circular firing squad attacking the Warriors.
Also several dead Miners.
What I think has happened here (much guesswork):
-Earlier on, when a Molotok had turned up, I used that colony as a shield. Fact.
-Several miners got caught in the Molotoks fire. One or two may have died.
-The LAST warrior to die was killed by a fragment from that asteroid, after it was hit by a blast weapon. This pushed the kill-count over the threshold where the colony spawns a warrior....
-Said Warrior is spawned to attack the thing that fired the "weapon" (fragment) that killed the Miner.....in this case, the asteroid.
-The huge amounts of fragments from the repeated plasma cannon hits on the go off and kill MORE miners....reaching another threshold.
-ANOTHER miner spawns...and attacks the asteroid.
-Rinse and Repeat the previous two steps FIVE more times....
Poor asteroid......that many hits has GOT to hurt. Still, if the ferian plasma cannons were mining tools as well as massive guns.......it would certainly be an
effective
way of mining......
Now, quite apart from the fact that I doubt a faction capable of building HUUUUGE plasma cannons and the best mining tools in existence is going to send SEVEN heavily armed and thoroughly evil looking killing machines to take on...well...a rock......this does also mean that the Warriors are NO THREAT WHATSOEVER.....you can kill them one by one, and they don't twitch.
Perhaps the coding needs tweaks so that asteroids (and wrecks as well, presumably, since they also create fragments if hit) do not create a Warrior spawn if a fragment from them kills Miners?