MOD DESCRIPTION:
----------------
Ever wanted to know how much you paid for that batch of Ore collecting dust in your cargo hold?
Despair no more, the Trade Assistant (optional ROM, to be bought separately) automatically keeps track of what you paid for each item!
The Trade Assistant keeps track of what you paid for any item bought. When selling these
items, the average price paid is displayed in the dockscreen. While (definately) not a god-mod, this mod
does
make your game a bit easier.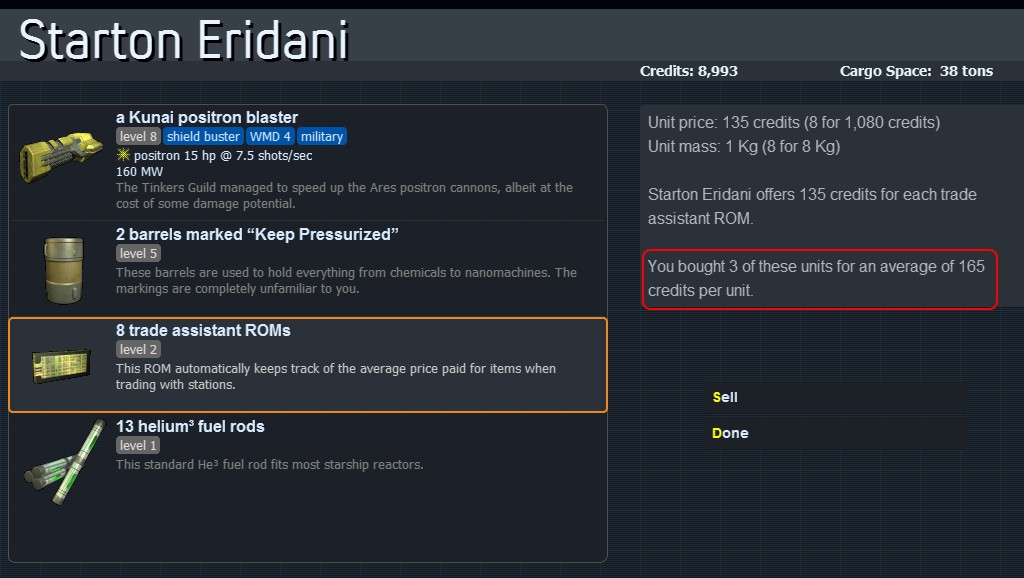 VERSION INFORMATION:
--------------------
Game version: 1.7alpha1
API Version: 29
Mod name: Trade Assistant
Mod version: v1.02
Release Date: 2016-04-10
Author: Pixelfck
Licence: CC BY-SA (Creative Commons Attribution-ShareAlike)
GAME MODIFICATIONS:
-------------------
This mod (unfortunately) overwrites 1 vanilla entity and 2 global lambdas.
The modified global lambdas are:
- rpgBuyItems and
- rpgSellItems.
The modified entity is listed in the UNID declaration in the mod's main file:
- TradeAssistant.xml.